WHY CHOOSE ROCKETPLATES?
Custom engineered orifice plates
Provide back pressure to control valves
Provide fixed pressure reduction and flow restriction
Minimize or eliminate noise and cavitation
Extreme abrasion resistance for the most severe services
Super hard tungsten carbide inserts are replaceable and interchangeable
Dozens of standard and exotic plate materials to prevent corrosion
Concentric, eccentric or segmented orifice designs
Multi orifice designs for flow conditioning/stabilizing
Engineered with state-of-the-art flow modeling and 3D software
Made in Canada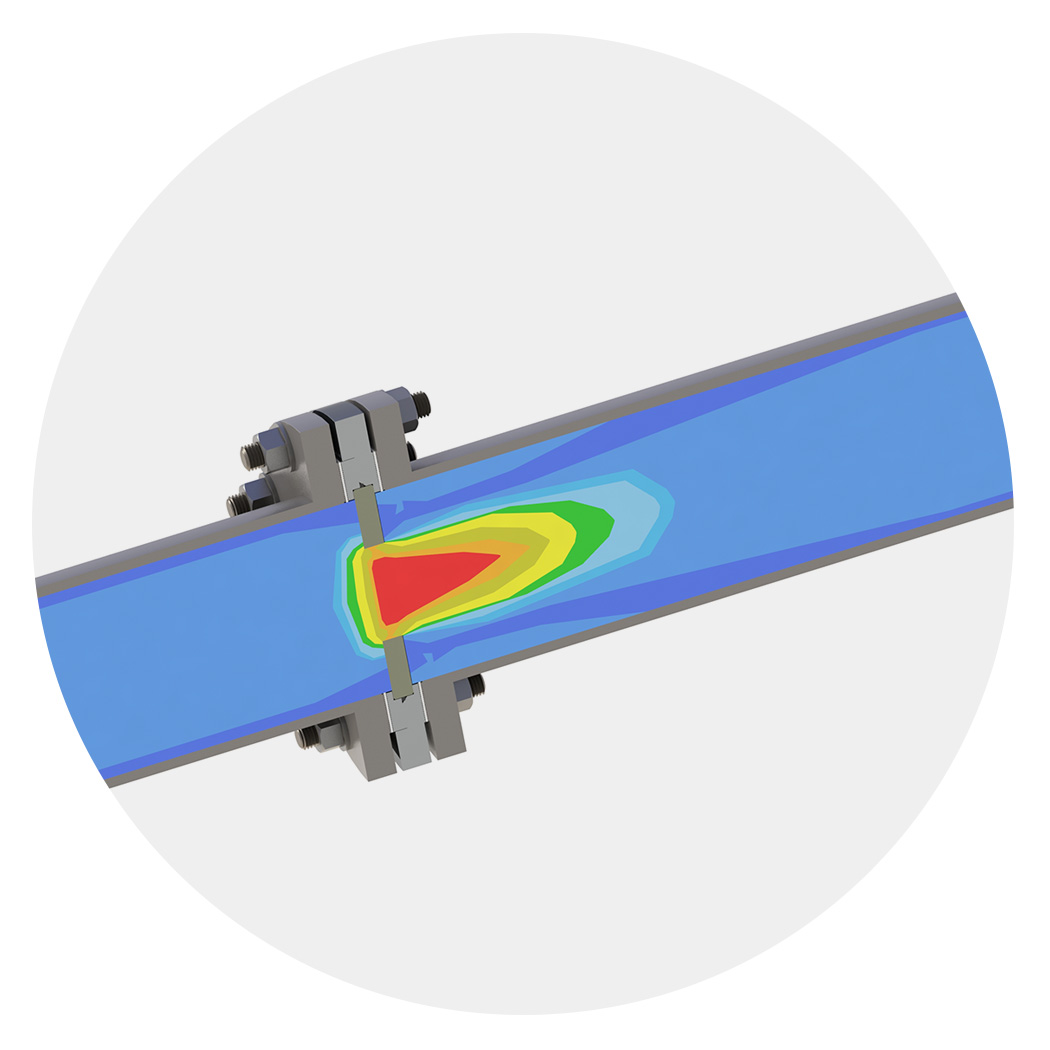 DESIGN CONFIGURATIONS
1-PIECE ORIFICE PLATE
Our 1-piece RocketPlates can be fabricated with or without a hard coating on the orifice ID. Bare metal plates are ideal for non-abrasive fluids, while hard coatings are applied to plates going into abrasive slurries with larger orifice diameters.
RocketPlates can be coated with any welded hard overlay, such as Stellite 6, Tungsten Carbide (applied via 'PTA'), Chrome Carbide, Eutectic Coatings, Etc. These materials are applied to the orifice ID and onto the upstream and downstream faces.
3-PIECE ORIFICE PLATE WITH CARBIDE INSERT
RocketPlates with sintered carbide wear inserts are designed for abrasive slurries. The carbide inserts are extremely hard, providing unparalleled wear resistance. Once the inserts do wear out, they can be replaced within minutes.
Our most common carbide materials are 'Sintered Tungsten Carbide' and 'Sintered Silicon Carbide' (aka: Ceramic). These materials can be manufactured into any shape, allowing RocketPlate engineers to provide the best possible design.
ORIFICE PLATE WITH RUBBERIZED INLET
Rubber inlays are typically specified when slurry applications contain large particles (such as rocks). A thick rubber layer protects the inlet side of the RocketPlate; while the downstream side houses a sintered carbide insert or welded hard coating.
These orifice plates have wider face-to-face dimensions, and are the most heavy-duty RocketPlates we manufacture. We only recommend these designs for the most severe slurry applications.

SPECIFICATIONS

RocketPlates are available for 3 to 72 inch pipe diameters. The above examples are generic ANSI150 orifice plates, shown to scale.
Pressure class:
ANSI 150, 300, 400, 600 & 900
Plate materials:
316SS, Hastelloy, SuperDuplex, Titanium, Platinum, etc (there are no limitations on materials)
Insert material (disk):
Sintered carbides (replaceable)
Welded overlays:
Stellite 6, Chrome Carbide, NanoSteel, PTA-TC, etc (there are no limitations on overlays)
Hardware:
Hardware material matches plate metallurgy.
Max operating pressure:
2,220 PSI @ -20 to 100°F (ANSI900 RocketPlates)